---
---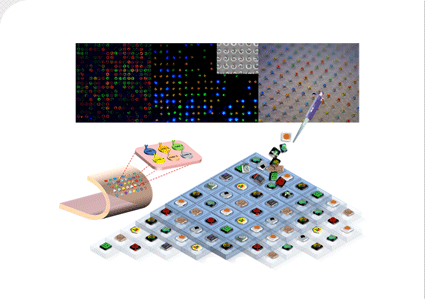 Partipetting
Partipetting is defined as a single pipetting operation of simultaneously self-assembling million different liquid drug-laden microparticles into million separate reaction wells in a microfabricated well plate, implying 'Pipetting encoded Particles'. First, a liquid chemical compound...
+ more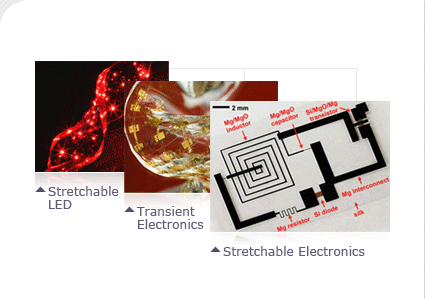 High Performance Bio-integrated Devices for Clinical Applications
Our research aims to develop technologies for high performance flexible and stretchable electronic devices using high quality single crystal inorganic materials that enable a new generation of implantable biomedical systems with novel capabilities and increased performance. Implantable s...
+ more
Publications
Hyperfunction thyroid nodules: their risk for becoming or being associated with thyroid ...

2013

Lee ES, Kim JH, Na DG, Paeng JC, Min HS, Choi SH, Sohn CH, Chang KH. Korean J Radio...
A practical scoring system to determine whether to proceed with surgical resection in re...

2013

Park CK, Kim JH, Nam DH, Kim CY, Chung SB, Kim YH, Seol HJ, Kim TM, Choi SH, Lee SH, Heo...
Effect of Delayed Transit Time on Arterial Spin Labeling: Correlation With Dynamic Susce...

2013

Yun TJ, Sohn CH, Han MH, Kang HS, Kim JE, Yoon BW, Paeng JC, Choi SH, Kim JH, Song IC, C...
Blood oxygen level-dependent MRI for evaluation of early response of liver tumors to che...

2013

Choi JW, Kim H, Kim HC, Lee Y, Kwon J, Yoo RE, Cho HR, Choi SH, Chung JW. Anticance...
Nano-sized CT contrast agents.

2013

Lee N, Choi SH, Hyeon T. Adv Mater. May 21;25(19):2641-60. doi: 10.1002/adma.2...
Serial MR analysis of early permanent and transient ischemia in rats: diffusion tensor i...

2013

Kim JH, Na DG, Chang KH, Song IC, Choi SH, Son KR, Kim KW, Sohn CH. Korean J Radiol...
+ more
---